Greengoer 2016-17 is a 10-month environmental leader training program dedicated for university students launched in Oct 2016. It is implemented by ecobus 生態巴士under the support from Environmental Campaign Committee (ECC). (The programme website: http://www.ecobus.org.hk/site/greengoer-student-environmental-protection-leader-training-scheme-201617/). It aims to foster global citizenship among tertiary students and to train them to be future leaders with visions in environmental conservation and sustainable development.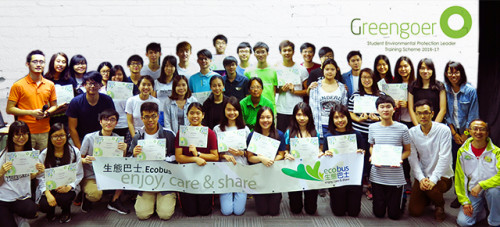 After receiving extensive training including workshops, seminars, field visits and training camp. 40 passionate youth leaders from 13 universities and tertiary institutions in Hong Kong exercised their knowledge and skill and organized "Campaign for Promoting Green Living 街頭推廣綠色生活" in order to increase public awareness on green living. It has drawn a lot of public attention on the topics about: 1) community resource sharing; 2) clean recycling; 3) waste reduction and 4) carbon emission reduction.
Community resource sharing is one of the ways to make the best use of the existing resources. It is, therefore, the greengoers collected unwanted items from different sources. After sorting and separating the items, they launch a "free-gift" platform to redistribute the resource among the community and disseminate the message on treasuring the resources.

Clean recycling is one of the key factor in successful recycling of the materials and needs to instill such concept and habits among public. To raise the awareness of this issue, the Greengoers set up a simple unit with cleaning equipment (three-water-bucket cleaning system) for teaching public to clean recyclables, mainly beverage containers before recycling.

In order to visualize the impacts of waste generation and the importance of waste reduction and recycling, Greengers, with reference to "Trash man" campaign in other country, put on the waste generated in one week on them to draw the attention of the passerby. A big waste made of expanded polystyrene was also demonstrated on street and allowed to take photos by the public to promote the recycling of polystyrene.

Reducing consumption of electricity can result in carbon emission reduction hence mitigating global warming and climate change. Greengoers set up a bicycle with electricity generator to let the public to generate the electricity with it and most importantly understand the electricity consumption rate of various electrical appliances. It also reminds the public to treasure electricity as it takes time and handwork of getting energy generated by non-fossil fuel.