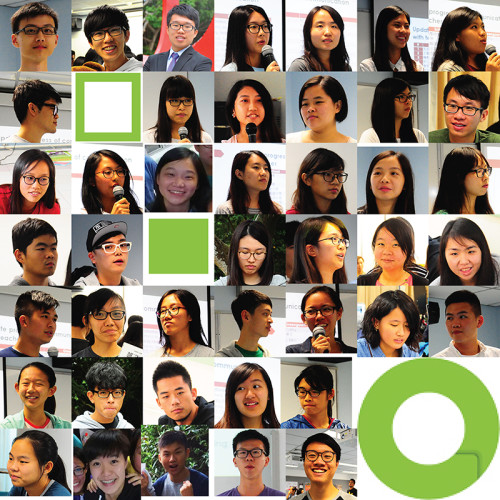 Greengoer 為「學生環境領袖訓練計劃2015/16」的其中一個項目,由環境運動委員會發起及支持,ecobus生態巴士策劃及主辦。此計劃的目的是培養大專學生作為地球公民的意識,並訓練他們成為以環境保育與可持續發展為願景的領導者。
Greengoer is one of the programmes under "Student Environmental Protection Leader Training Scheme (SEPLS) 2015/16". Greengoer aims to foster global citizenship among tertiary students and to train them to be future leaders with visions in environmental conservation and sustainable development.
Greengoer招收了40名對環境保護工作有熱誠的大專院校學生,在過去10個月,他們接受了一連串有關環保的訓練,包括工作坊、研討會、野外考察和訓練營等,以提提升相關知識和技巧。隨後,他們與中學老師合作策劃以「綠色社區行動」為主題的環保活動,以提出下一代的環保意識。
這次展覧共分為四個主題。第一個展攤以「綠色點子」為主題。Greengoer將在此展示在計劃中,曾經拋出的「綠色點子」。而另外三個展攤,則以香港土地劃分的三個類型︰鄉郊、市區和農地作為主題。展覽內容是在不同土地上,各自包含的環保問題。但凡有人類活動的地方,就會有環境保護問題。在此,Greengoer們希望借三個不同角度,向大家展示不同環保問題。
Around 40 tertiary students who are concerned about the environment have been selected to attend extensive training including workshops, seminars, field visits and a training camp in order to equip themselves with relevant knowledge and experience.  After that, they have organized a series of green activities with secondary school teachers in order to enhance our next generation's awareness of environmental protection.
In this exhibition, there are four main topics.  The first exhibition booth aims at showing the new "green ideas" generated by Greengoers in the activities.  The remaining three booths are corresponding to three themes: Urban, Nature & Farm, which are three different kinds of land use in Hong Kong.  Indeed, environmental problem always accompany human activities.  Here, Greengoers is trying to reveals the environmental problem that we are facing to in different situation.